Online On Seminar (July 2020)¶
DioVISTA Online Seminar 2020 ~How to use the flood simulator~¶
Event Report¶
DioVISTA Online On Seminar was held in July 2020.
This was the first online seminar, and nearly 150 people watched it.
The scene of the day (Live video was distributed) )
(Course 6: DioVISTA Flood Simulator technology & use case)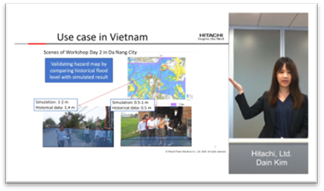 We also received many opinions in the questionnaire. Some excerpts will be posted.
The fact that it can be calculated in a short time was attractive. I would like to try the trial version first .
Since the calculation time is very short and it seems that it is easy to create a model on a map while checking the terrain information, I felt that the work efficiency would be greatly improved.
I am interested in standardizing hazard mapping work. I would like to use it.
I feel that the ability to easily implement flood predictions and obtain useful information for BCP formulation is a useful tool in the situation where flood damage has increased in recent years.
We are planning to introduce it in the future, but we hope that you will have the opportunity to take the time to learn about specific usage methods.
We would like to thank everyone who watched despite their busy schedules.
We will continue to plan seminars that will be useful to everyone in the future, so thank you very much.
---
Seminar Information Pamphlet¶
You can download the brochure in PDF format.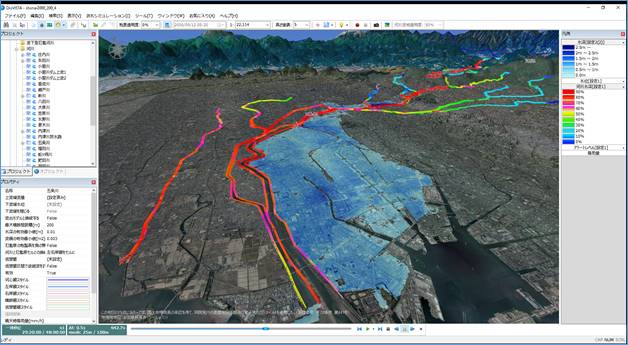 Figure: Simulation results of large-scale flood damage (example of operation screen of DioVISTA/Flood)
Location¶
Online
If you have applied for participation, the secretariat will inform you of the viewing method by e-mail.
Participation fee¶
Free / Pre-registration required
schedule¶
Wed,29 Jul 2020
substance¶
We have prepared 6 courses for each field
time
substance
10:00~10:30
Course 1: Utilization of DioVISTA in the field of construction consultancyDioVISTA,
which is used by many companies in the construction consulting field, and how to use it for creating flood estimation maps and flood expected area maps.
11:00~11:30
Course 2: Utilizing Dam Dashboard in the Dam Field
Introducing Dam Dashboard, a dam operation support tool that realizes AI-based inflow prediction and discharge optimization, and how to use it for dam management and operation support.
13:00~13:30
Course 3: Utilization of DioVISTA in the field of non-life insuranceDioVISTA,
which is widely used by non-life insurance companies, to quantify flood disaster risk over a wide area and introduce examples of proposals for damage mitigation measures for target properties.
14:00~14:30
Course 4: Utilizing DioVISTA in the field of disaster prevention
administrationReal-time prediction technology for river water levels and inundation areas using rainfall prediction, and services that can be used to share a sense of crisis of flood damage and as a guideline for initial response.
15:00~15:30
Course 5: Proposal for BCP support for flood countermeasures for the field of corporate disaster preventionIn
order to become a company that can withstand flood damage, we will introduce flood countermeasure BCP support services that support BCP formulation based on detailed simulations and bridging with the government.
16:00~16:30
Course 6: DioVISTA Flood Simulator - technology & use case
DioVISTA technology and use case will be introduced. Our live demo will show its 3-D visualization, fast calculation, and intuitive operation.
request¶
Prior to the seminar, you will gain a better understanding of DioVISTA by using the DioVISTA/ Flood free version to get a feel for the operation.
How to apply¶
Please contact us by email or phone by July 22.
contact¶
Mail: diovista@pis.hitachi.co.jp
Tel: 03-5577-8193 (Contact: Nakano)
Contact details¶
Name of the person who wishes to participate
Affiliation / Position
E-mail address
Participating courses (you can choose one or more courses)

Course 1 (Construction Consulting)
Course 2 (Dam)
Course 3 (Property and Casualty Insurance)
Course 4 (Disaster Prevention Administration)
Course 5 (Corporate Disaster Prevention)
Course 6 (English)
If the capacity is reached, the application will be closed.
Greeting¶
On July 29, we will hold an online seminar for professionals involved in flood damage and those who are considering BCP for flood countermeasures. We would appreciate it if you could feel free to apply.
As you know, severe flood damage occurs almost every year. Following the torrential rains Japan the west in 2018 and the east Japan typhoon in 2019, the need for flood countermeasures has been recognized nationwide.
We have been selling the flood simulation software DioVISTA/Flood since 2006 and have been used by many customers, mainly in the non-life insurance and construction consulting fields. In addition, we provide detailed and specific BCP formulation support based on simulations for the corporate disaster prevention field, and have been well received by companies in the manufacturing industry, food, broadcasting, and social infrastructure.
In this seminar, we will introduce the features of the flood simulator DioVISTA/Flood and how to use it. In order for many people to participate, this year's seminar was held online.
We understand that you are busy, but we sincerely look forward to your participation.
---
Last update: 2023-03-20