Menu bar/ Favorites¶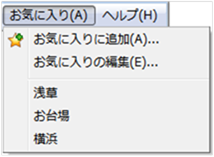 Figure: Favorites menu
Table: Favorites menu items and functions
| Menu Items | function |
| --- | --- |
| Add to favorites | Favorites the displayed position. |
| Edit favorites | Make your favorite edits. |
| Favorite places | Go to Favorite Places. |
Add to favorites¶
Select the menu with the location to be added to favorites displayed on the map.
[Add to favorites] Enter a name in the dialog[OK] and click the button.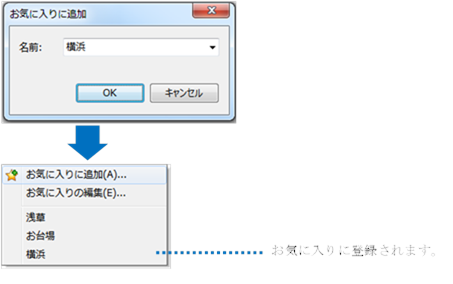 Figure: Add to favorites
Edit favorites¶
When you select a menu,[Edit favorites] a dialog appears.
Edit each item and[OK] click the button.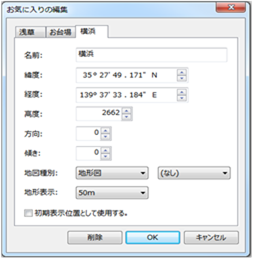 Figure: Edit favorite dialog
Table: Favorite edit dialog items and descriptions
item
explanation
Favorites (tab)
Tab display of registered favorites.
View the favorite tab you want to edit and edit the item.
name
Enter a name for your favorite.
latitude
Select North/South latitude and set the latitude.
longitude
Select East/West and set the longitude.
altitude
Sets the altitude of the display position.
direction
Sets the orientation of the display position.
slope
Sets the slope of the display position.
Map type
Select the map type (raster map, vector map) to display.
Terrain display
Select the terrain display mesh size to display the map three-dimensionally.
Use as the initial display position.
Check this to be the initial display position when DioVISTA starts.
Delete button
Click to delete. The favorite you are viewing is deleted.
Favorite places¶
Select a favorite location from the menu.
The map displayed in the main window moves to the location marked as a favorite.

Figure: Select a favorite place
---
Last update: 2023-03-20